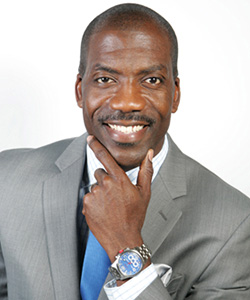 Kevin Carr is a 20-year sports business and professional development executive. As an acclaimed award-winning transition expert, author, leadership coach, and keynote speaker, Kevin Carr is the Founder, CEO and Principal of PRO2CEO, LLC. Kevin believed a high-performing professional development firm specializing in transition management for professionals in the sports, entertainment and business needed to exist. PRO2CEO is a career transition and business development-consulting firm for elite current & former athletes, artists and organizations who seek to increase their optimization and monetization in the business world.
Most recently Kevin served 13 seasons (2001-2014) as Vice President of Social Responsibility and Player Programs for the National Basketball Association and NBA Development League. In that role, Kevin was one of five people in the world to provide transition, career and life coaching to NBA and NBA D-League players. He was part of the player development staff that changed the NBA dress code, he lead social responsibility efforts for NBA D-League Cares, and assisted in the execution of premier NBA Player Development initiatives for 6 NBA and 18 NBA D-League teams.
His illustrious background includes a position as Associate Director of Student-Athlete Support and Director of Life Skills at Michigan State University (MSU) where under his leadership, MSU's Life Skills program was awarded the distinguished Division 1A Athletic Director's "2000 Program of Excellence Award." Prior to MSU, Carr was responsible for piloting the first Life Skills program at Florida State University, and was part of the FSU staff acknowledged for their accomplishments with the Award of Excellence for an Academic Support Program for Student-Athletes for College Athletic Management in 1996. He has also been honored with 4 championship rings in collegiate football, basketball and ice hockey for his role in providing outstanding leadership to players, coaches and staff.
Revered for his work in the field of human development, Carr's expertise has made him an asset in talent development for numerous Fortune 500 companies, including AT&T, IBM, Siemens, The Orlando Magic and the Walt Disney World Company. A business leadership coach, Mr. Carr is a certified licensed facilitator of Franklin Covey's "7Habits of Highly Successful People" and "The 4Roles of Leadership," and holds a certification in Business Communication Skills and Professional Self-Development and Management from Michigan State University's College of Communication Arts and Sciences.
Kevin is also a nationally and internationally known speaker and has delivered keynotes and facilitated trainings to prestigious organizations such as Australian based company ASMP, NIKE, NIKE Canada, Merrill Lynch, Walt Disney, AAU, Hoosier Lottery, FSU, NYU, MSU, UCF and the NCAA to name a few.
Among his many distinctions, Carr has been recognized by the Network Journal Magazine as one of its "Top 40 Forty Under Forty" achievement award winners for his significant levels of professional success and substantial contributions to the community in 2005. In 2010 Kevin was awarded the YGB Award for his achievements in business and the community. In 2011 Kevin received the No Book No Ball Foundation Award for the commitment to his work in the community.
He has been featured in The Shadow League, The Network Journal, RYSE Magazine, FSU Magazine, and Rolling Out Magazine for his work in the field of professional development. Hardwood Paroxysm, American Public University System, the Orlando Sentinel and Careerathletes.com have also interviewed him on personal and professional development of athletes.
Kevin has also been a guest lecturer at NYU, UCF, Indiana U, and Baruch College for several graduate and undergrad level classes on sports management, leadership, corporate social responsibility and public administration. He has also been an adjunct professor at Florida State and Michigan State universities and taught courses on life Skills and Career Development. He has published articles such as "Cultivating Your Own Career," in The Network Journal Magazine, (March 2007); "Take It Personally, The Well-Balanced Athlete," Nike All-Canada Camp (2005); "Time Management: The Key to Balancing Sports and Academics for the Student-Athlete," Published in the American Football Quarterly, Vol. 1, 3rd Quarter (1995).
Currently Kevin is active in the community serving as a board member for the R&B artist and actor "NeYo's" Compound Foundation, American Public University's (APU) Sport and Health Sciences advisory board member, a member of the National Association of Academic Advisors for Athletics, a life-time member of the FSU Alumni Association, and is a member of Alpha Phi Alpha Fraternity, Incorporated.
He also enjoys coaching and mentoring emerging professionals across the U.S. in a wide range of industries. Kevin resides in Tampa and is supported by his wife Jenise and children.