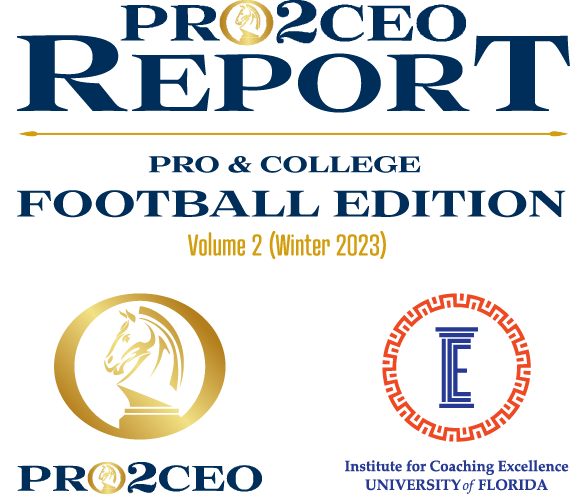 PRO2CEO REPORT
WINTER 2023
Top NFL Post-Career Transitions
Maintaining a keen eye on the transition of players in, through, and out of professional football is essential. In addition to the inherent physicality of the sport, there are myriad reasons as to why NFL players need to be preparing for a successful transition essentially from the outset. Injuries shorten careers. Contract structures are different, especially in terms of their length. Constant coaching turnover and subsequent changes in scheme leave some players experiencing an even earlier exit from the sport. The nature of the sport lends itself to short careers, and the awareness of player health and safety wrought by recent years has demonstrated the clear need for a plan of action coming out of the NFL.
The spectrum of former players in the arena of business is wide. There are those at a much higher earning rate due to franchising, business ownership, and brand representation. However, equally as successful in transitioning are those that have invested in or begun their own start-up businesses. It is a wide and impressive scope. As the prior PRO2CEO Report covered transition in Major League Baseball, there is also a comparison to be made. Post-career earnings from endorsements remains far higher among NFL players than those in MLB, while higher earning potential organically tends to lead to a consistently higher net worth among those who transitioned most effectively. The research collected from this report was collected from readily available sources, including online portfolios, and aggregated into the most consistent and trustworthy information possible.
Due to the marketability & exposure of the NFL, the scope of research was wide. The inherent recency bias present in sport research, however, did limit most of the findings to players who played in the late 1990s or after. It is a trend not without merit, however. This research trend came in addition to the massive increase in exposure and profit for the league over the last few decades. The following is an inexhaustive list of NFL players who have successfully transitioned out of the sport and into their ventures in business.
Top 20 NFL Post-Career Transitions
The names presented on this list represent the twenty most successful transitions out of a career in the NFL. While there are other former players who maintain a high net worth, their career earnings play a significant part in that. This list is created with the caveat that it is not a ranking of net worth. It is an indication of an effective transition, merely organized by net worth.
*Of note, former Green Bay Packers quarterback Brett Favre likely would have factored into this list. However, recent allegations and scandal inhibit the ability to trust his estimated net worth and, thus, he was not included.
20. Emmitt Smith: Dallas Cowboys, Arizona Cardinals
Years Active: 1990-2004
Reported Net Worth: $25 million
Notable Business Interests: Investments, Real Estate, NASCAR
Summary: The NFL's all-time leading rusher owns one of the more diverse portfolios on this list. His reach in the real estate landscape is vast, as the owner of ESmith Legacy, LLC, E.J. Smith Construction, and E Smith Realty Partners. He also owns stake in NASCAR's Jesse Iwuji Motorsports and upscale barbershop The Gents Place, among others.
19. Ray Lewis: Baltimore Ravens
https://www.biography.com/athletes/ray-lewis
Years Active: 1996-2012
Reported Net Worth: $30 million
Notable Business Interests: Investments, Network of Untapped Entrepreneurs
Summary: Lewis has primarily grown his fortune through a number of investments across different industries, including tech and solar. Perhaps most notable among his operations in business since retirement, though, come as a founding partner of Network of Untapped Entrepreneurs. Lewis & NUE work to invest in and help to develop BIPOC-owned companies.
18. Nnamdi Asomugha: Oakland Raiders, Philadelphia Eagles, San Francisco 49ers
Source Nnamdi Asomugha Net Worth | Celebrity Net Worth
Years Active: 2003-2013
Reported Net Worth: $30 million
Notable Business Interests: Acting, Producing
Summary: Asomugha has immersed himself in the craft of acting, appearing in both film and television programming, but perhaps even more notably serving as a producer. He has been behind the scenes for critically acclaimed films such as Beasts of No Nation & Harriet.
17. Marshawn Lynch: Buffalo Bills, Seattle Seahawks, Oakland Raiders
Years Active: 2007-2019
Reported Net Worth: $35 million
Notable Business Interests: Beast Mode Brand, Cannabis
Summary: In addition to continued endorsements, Marshawn Lynch has made a financial mark through his Beast Mode brand, which includes both filmmaking and marketing. He is also one of a handful of former players & celebrities invested in marijuana with his own brand, Dodi Blunts.
16. Edgerrin James: Indianapolis Colts, Arizona Cardinals, Seattle Seahawks
Years Active: 1999-2009
Reported Net Worth: $40 million
Notable Business Interests: ONE Enterprises
Summary: While he doesn't maintain as high a profile as other former names on this list, "Edge" has carved out a strong niche for himself on the business side. His firm, ONE Enterprises, is the umbrella over several businesses and properties. Among those are EJ Properties, ONE Gentleman's Club, and ONE Lounge, among others.
15. Calvin Johnson: Detroit Lions
Source dancingwiththestars.fandom.com
Years Active: 2007-2015
Reported Net Worth: $45 million
Notable Business Interests: Cannabis
Summary: Johnson's most notable venture on the business side has been with Primitiv. In conjunction with former teammate Rob Sims, Johnson aims to reap the medical benefits of the substance that was a difference-maker for him as a player. It is also important to note that in addition to his success in business, Johnson has maintained involvement with multiple social justice and community programs since his retirement.
14. Rob Gronkowski: New England Patriots, Tampa Bay Buccaneers
Years Active: 2010-2021
Reported Net Worth: $45 million
Notable Business Interests: Sports Products
Summary: While "Gronk" maintains notoriety for his myriad of endorsements, Rob & the Gronkowski family have started up several products, including G&G Fitness, which deals in sports equipment, IceShaker bottles, Herd Sports Chew, and The Gronk Bus, with Gronk Nation serving as the umbrella site for each of their individual ventures.
13. Jerry Rice: San Francisco 49ers, Oakland Raiders, Seattle Seahawks
Years Active: 1985-2004
Reported Net Worth: $55 million
Notable Business Interests: Investments; Start-Ups
Summary: Since his retirement, Rice has been involved with a number of start-ups and served as brand ambassador for different products. The most recent of these ventures is G.O.A.T. Fuel, a line of health products including energy drinks, that was co-founded by Rice.
12. Michael Strahan: New York Giants
Years Active: 1993-2007
Reported Net Worth: $65 million
Notable Business Interests: Production, Clothing, Lifestyle
Summary: One of the more notable faces in television, thanks to his work on FOX & Good Morning America, Strahan has also invested heavily beyond his studio gigs. He owns a talent management & production agency, while also maintaining his own lifestyle & apparel brand.
11. Troy Aikman: Dallas Cowboys
Source Troy Aikman Net Worth | Celebrity Net Worth
Years Active: 1989-2000
Reported Net Worth: $65 Million
Notable Business Interests: Car Dealerships, Wingstop, EIGHT Elite Light Lager
Summary: In addition to maintaining a lucrative role as one of the premier analysts in sport media, Aikman has made several notable investments since retiring. Like his quarterback compatriot John Elway, Aikman was involved with car dealerships. He was also an early investor in Wingstop. More recently, Aikman launched EIGHT, a beer sold only in Texas and pitched as being of a healthier variety, due to its lower calorie intake and organic ingredients.
10. Carson Palmer: Cincinnati Bengals, Oakland Raiders, Arizona Cardinals
Source profootballtalk.nbcsports.com
Years Active: 2004-2017
Reported Net Worth: $90 million
Notable Business Interests: Real Estate
Summary: Not an uncommon path among former athletes, Palmer became heavily involved in real estate in 2020. His primary focus is on multi-family and affordable housing, specifically in suburban areas. Palmer has specifically aimed to capitalize on the movement of people out of cities and into more suburban or rural areas.
9. Alex Smith: San Francisco 49ers, Kansas City Chiefs, Washington
Years Active: 2005-2020
Reported Net Worth: $95 million
Notable Business Interests: Investments
Summary: One of the more recent additions to the "former" player list, Smith has made at least one very notable investment in VICIS, a company whose Zero1 helmet aims to significantly reduce head injuries. He has been a co-investor with Aaron Rodgers through multiple rounds. As the focus on player safety in the NFL continues, Smith's investment could be a lucrative, if not essential, one.
8. John Elway: Denver Broncos
Years Active: 1983-1998
Reported Net Worth: $145 million
Notable Business Interests: Restaurants, Auto Dealerships
Summary: While he was most noteworthy post-NFL for his role in the Denver Broncos front office, Elway made his post-career fortune through a small chain of upscale steakhouses, including one in the Denver Ritz-Carlton and ownership of auto dealerships. He made over $80 million selling a handful to AutoNation, but does still maintain a direct stake in at least three, including a pair of dealerships in California.
7. Joe Montana: San Francisco 49ers, Kansas City Chiefs
Source Joe Montana Net Worth | Celebrity Net Worth
Years Active: 1979-1994
Reported Net Worth: $150 Million
Notable Business Interests: Venture Capital
Summary: Montana's post-playing career has been primarily spent in venture capital, with Montana currently maintaining a stake in his second notable venture capitalist firm, Liquid 2 Ventures. Most notable among the investments in start-ups is GitLab, a software company in which Montana's initial six-figure investment was worth over $40 million as of late 2021.
6. Eli Manning: New York Giants
Years Active: 2004-2019
Reported Net Worth: $150 million
Notable Business Interests: Private Equity
Summary: While the younger Manning brother has likely gained more exposure as a spokesman since his playing career ended, Eli has made his transition out of the NFL primarily in private equity. His most notable venture has been joining Brand Velocity Partners as a partner, a firm which specializes in brand development of consumer products.
5. Drew Brees: San Diego Chargers, New Orleans Saints
Years Active: 2001-2020
Reported Net Worth: $160 million
Notable Business Interests: Restaurants; Stretch Zone
Summary: Having spent a year as an analyst for NBC, as well as serving as a spokesperson for PointsBet Sportsbook (of which he also maintains an ownership stake), Brees has made his money investing primarily in franchises. He owns multiple Jimmy Johns & Dunkin' Donuts locations. Outside of those prominent names, Brees maintains a stake in Happy's Irish Pub, Walk Ons Bistreau & Bar, Stretch Zone, and a superfood grocery story, everbowl.
4. Steve Young: San Francisco 49ers
Years Active: 1985-199
Reported Net Worth: $200 million
Notable Business Interests: HGGC
Summary: In addition to his work as an analyst, Young is the co-founder and chairman of HGGC, an investment company that helps develop mid-market companies. Young also serves as chairman of three companies which HGGC oversees, including IDERA, Integrity, & AutoAlert, as well as a board member of several others.
3. Peyton Manning: Indianapolis Colts, Denver Broncos
Years Active: 1999-2015
Reported Net Worth: $250 million
Notable Business Interests: Omaha Productions, Papa Johns, Memphis Grizzlies
Summary: In addition to his continued endorsements even after his playing career, Manning is financial involved with Papa John's pizza, for which he is also a spokesperson. Perhaps the most unique of his business interests is that of Omaha Productions. A multi-form entertainment company, Omaha Productions is involved in video and audio production in conjunction with ESPN, Disney, and several former athletes.  Manning also holds minority stake in the Memphis Grizzlies.
2. Tom Brady: New England Patriots, Tampa Bay Buccaneers
Years Active: 2000-2022
Reported Net Worth: $250 million
Notable Business Interests: TB12, Autograph, Brady Brand
Summary: In addition to myriad endorsement deals, the recently retired Brady is primarily known for his fitness & nutrition company, TB12. The intricate operation includes training, dietary supplements, and nutrition plans as they coordinate with other companies (including Purple Carrot) to enhance their operation. In addition, Brady's portfolio includes ownership in NFT company Autograph, 199 Productions, and his own Brady Brand, as well as other individual investments. Brady enters retirement with a reported nine-figure deal with FOX to continue his involvement with the NFL as an analyst.
1. Roger Staubach: Dallas Cowboys
Source www.executivespeakers.com
Years Active: 1969-1979
Reported Net Worth: $600 million
Notable Business Interests: The Staubach Company
Summary: The oldest player on the list, Staubach represents the pinnacle of business acumen among former NFL players. Staubach got involved with real estate during his playing career, eventually graduating to the massive fortune he attained through his increasingly complex brokerage business, The Staubach Company. Primarily operating within office and industrial real estatate, Staubach has maintained varying levels involvement with the company in a leadership role in the time since the company was sold, as well as a brief foray into NASCAR alongside Troy Aikman.
NOTABLE CAREER TRANSITION TRENDS
Source Peyton Manning Wikimedia Commons
One of the more predominant trends of both the current and former lists is the massive quarterback presence in each. Touted as the "most important position" in sports, it stands to question as to what quarterbacks are doing differently during their career that makes them so successful following their transition out. It could be, in part, thanks to endorsements due to the visibility associated with the position. Quarterbacks are more likely to serve as brand spokesmen, but there is also a trend in which they have a direct stake in products for which they advertise (as is the case with Peyton Manning, Drew Brees, etc.).
There is also the notable trend of involvement in cannabis products. The physicality associated with the sport has led to controversy in the past surrounding the use of marijuana as a pain management technique, regardless of which fashion. However, the increased social acceptance of the substance, and the player involvement with it (given the physical issues they experience after their career is over) has led to players such as Marshawn Lynch, Calvin Johnson, and Julio Jones getting involved.
With respect to prior PRO2CEO research, former MLB athletes were more likely to remain involved in the sport in a coaching capacity if they were still in the game at all. Those that focused on business were heavy on the venture capitalist side. While there is a presence for that here, former NFL athletes appear far more likely to get involved in real estate and tangible businesses, whether start-ups or franchises. In regard to the former, it is clear that the limited coaching opportunities in football, due to decidedly fewer teams and no minor league, tends to send former players in the direction of broadcasting, should they choose to remain a part of the sport. The latter does raise an interesting question as to what leads NFL players to pursue direct business ownership, rather than the more abstract venture capitalist funds, which tends to be with more risk but lucrative if executed well. The bottom-line, though, appears to be that pro football players sport careers in the US last shorter than any other sport, making the transition component key.
Honorable Mention NFL Post-Career Transitions
The zenith of our ambition within the PRO2CEO Report is to highlight effective transition out of sport. The list itself is cultivated and formed through estimated net worth. However, in this case, our research showed that there are numerous former NFL players involved with small businesses. While it may not generate wealth in the way that some of their counterparts have through other endeavors, it still represents effective transition and is worthy of attention in its own right.
Brian Orakpo & Michael Griffin franchised a cupcake business (Gigi's Cupcakes) almost immediately following retirement. Similarly, Rosevelt Colvin is a co-owner of SweeTies Gourmet Treats, in addition to his franchising of UPS Stores. Charles Woodson has involved himself in spirits, heading up both Intercept Wines & Woodson Whiskey. Rick Mirer owns winery Mirror Napa Valley. Justin Forsett was part of the founding group of Hustle Clean, a rising self-care & hygiene company. Jake Locker is a part owner in the aptly named Locker Room, a fitness center in Washington (along with fellow former NFLer Michael Koenen).  While their net worth doesn't quite reach the heights of other names on this list, their commitment to transitioning to a flourishing lifestyle in the years since their NFL career came to an end still represents a massive success. 
THE NEXT WAVE OF NFL PLAYERS & THEIR FUTURE CAREERS
Source Chiefs Wikimedia Commons
The evolution of a player's business transition was something explored in our Major League Baseball edition. Therein, it was discussed that current players had more of a tendency to focus on a personal brand or a modern product, like cryptocurrency or NFTs. Here, the preparation is different. Larger salaries from an earlier point can certainly make more significant investments possible at an earlier phase of a player's career.
There is, however, also a discussion to be had surrounding branding. Endorsement for both current and former players are seemingly infinite. The rising understanding & awareness of personal wealth and branding has made way for players utilizing social media as a tool to give them a more established name than yesterday's players. NFL players today do not necessarily need to be stars on the field to gain a following.
The following are intriguing NFL names, involved in diverse arenas outside of football, to keep an eye on with respect to future transition:
Patrick Mahomes
Current Team: Kansas City Chiefs
Industry: Athletics, Athletic Equipment, Franchises
Notable Products/Businesses: Kansas City Royals, Sporting KC, Whataburger, Hyperice 
Ndamukong Suh
Current Team: Philadelphia Eagles
Industry: Restaurants, Real Estate, Venture Capital
Notable Products/Businesses: Generals Restaurant Group, House of Spears Management 
Russell Wilson
Current Team: Denver Broncos
Industry: Media, Athletics
Notable Products/Businesses: West2East Empire, Seattle Sounders 
Odell Beckham, Jr.
Current Team: Free Agent
Industry: Venture Capital, Athletics, Athletic Equipment
Notable Products/Businesses: Rx3 Ventures, Milwaukee Bucks, VICIS, Hydrow 
Carl Nassib
Current Team: Tampa Bay Buccaneers
Industry: Index Funds
Notable Products/Businesses: Electric Utilities (Most Notably Electric Cars)
Among those featured here, the quarterbacks obviously stand out due to their heavy investments in sport franchise ownership. The lucrative contract of a quarterback, of course, allows for such an endeavor. While on a smaller scale, Beckham, Jr. has also showcased an interest in sport ownership, maintaining a stake in Mexican soccer club, Club Necaxa, and a Major League Pickleball franchise in Washington, D.C. He is also part of Mitchell & Ness' more recent ownership group. Suh is a notable entity as his social media primarily focuses on real estate, trends, and context for some of the many things occurring in the industry, indicating a clear preparation for the next step as his career nears its end. Similar to Suh in a pragmatic approach to his post-career plans, Nassib has indicated a focus on electric energy, specifically electric cars. In both maintaining a high profile via social media and indicating their plans for the future are concrete, rather than existing in the abstract, this represents a wave of players who could find their way onto the P2CR when they step away from the NFL. 
GRIDIRON BRAND & CULTURE MAKERS
Source Michael Vick Wikimedia Commons
Of additional note, especially as it relates to NFL players of a more modern vintage, is that of the cultural impact on mainstream society. Social media, of course, lends itself to an enhanced impact that was previously seen from professional athletes, but on a smaller scale. Now athletes such as Beckham, Jr. can gain additional notoriety beyond the field of play through fashion, social connections with other celebrities, and their role in advertising. As prominent as the NFL is, these elements allow athletes to maintain a massive cultural stake that goes beyond even their career and direct business interests. While this impact is currently something that is not currently as quantifiable, its increasing presence is worth monitoring for future research. This is especially true as social media continues to evolve, which will allow athletes to remain embedded in popular culture over an extended period of time. It could maintain a large bearing on transition and what transition looks like for future waves of players transitioning out of the NFL especially. 
Culture does, in fact, represent a different element of transition. The impact that an athlete, especially given today's NFL climate, maintains on both the culture of sport and society at large can manifest in transition. This transition has been seen throughout the decades. The 1960s saw "Broadway" Joe Namath cultivate a persona that permeated off the playing surface and into his everyday lifestyle. The following decade was dominated by a Pittsburgh Steelers team featuring no shortage of prominent names. Quarterback Terry Bradshaw still maintains a presence as a television analyst, while Joe Greene's Coca-Cola commercial is still duplicated by multiple media platforms today. The 1985 Chicago Bears created their Super Bowl Shuffle at the outset of a season in which they'd eventually win a championship. That kind of confidence and the physicality with which they played is still embedded as part of the fabric of Chicago culture. Before the decade was out, Ickey Woods added his own shuffle and enhanced the meaning of a touchdown celebration.
"Prime Time" was one of the marquee talents of the 1990s. His concept of "Deion" vs. "Prime" speaks directly to how adopting a persona specifically for the playing surface can leave a massive impact on the culture. Even as a college coach, he continues that impact. The later 90s into the 2000s saw such a trend, specifically on the wide receiver front. Terrell Owens' touchdown celebrations, whether stars or Sharpies, Randy Moss, and Chad "Ocho Cinco" Johnson all left tremendous impacts on how the position was played both on and off the field. While Tom Brady's winning ways loom large as a cultural force over the 2000s up through the present, the two-way play of Michael Vick should bear mention as the league currently boasts more of this style than ever before. His rapid fall from massive height to subsequent reform and, ultimately, personal & professional improvement also represents a cautionary tale for future NFL athletes.
While the transition component is not quite as tangible, given that previous transition research & discussion has centered around financial outcomes and direct business interests, it is important to note the lasting, multi-level impact that individuals such as the former names listed here, as well as current & future waves of NFL stars, maintain as a component of their own transition. Although historic names do not overlap tremendously with the list of successful transitions featured here, the cultural stake maintained by the likes of Mahomes, Wilson, and Beckham, Jr., among others, could lead to significant overlap in the future. This lends itself to future concepts of research regarding cultural significance and its influence as a component of transition. Such impacts may exist in an abstract fashion, but their value cannot be understated.
Two Black quarterbacks starring in the Super Bowl for the first time was not the only history being made during this year's 2023 Super Bowl LVII: Philadelphia Eagles Assistant Coach Autumn Lockwood also made history by becoming the first black woman to coach in a Super Bowl. Lockwood joined the staff in August 2022 serving as the team's Certified Strength and Conditioning Coach. She now becomes the fourth women to coach in Super Bowl History joining the list among Katie Sowers, Lori Locust, and Maral Javadifar. Super Bowl LVII was a year of historic firsts! Lockwood may be the first as of right now, but with the continuing increase of women making waves in football, we can expect to see more of this in years to come. 
THE NIL CORNER
Future Trends in Colleges, Universities, NCAA, and High Schools
NIL CORNER: HOW TO STAND OUT IN A CROWDED PLACE?
As we continue to explore the realm of NIL, a notable trend is the lack of student-athletes who have fewer deals than projected or have yet to land a deal. One of the biggest questions any student athlete may have is, "How can I put myself in a position to be presented with multiple paid NIL opportunities"? Majority of the research has explored effective endorser characteristics and celebrity endorsement strategies (Erdogan & Baker, 2000). As we continue to observe the everchanging NIL landscape, Pro2CEO's recommendations for any student athlete to influence the selection process for an NIL deal are based on two of the primary celebrity endorsement models: Source Credibility Model and Source Attractiveness Model.
The Source Credibility Model – places an emphasis on the celebrity endorser's perceived level of expertise and trustworthiness (Schimmelpfenning & Hunt, 2020; Erdogan et al, 2001; Koo et al, 2012). This acceptance of information from a credible source, which can change opinions, attitudes and behaviors is known as internalization. This occurs when "receivers accept a source influence in terms of their personal attitude and value structures" (Kelman, 1961). In other words, the consumers' consideration of the celebrity endorser's knowledge base or skill level in the sport can act as an influencer on the consumer. Correctly postured advertising can increase source credibility, positively influencing the athlete's level of expertise (Kunkel et al, 2019).
Gatorade boasts to fuel athletes during their efforts to achieve elite sports performance. In 2021, Gatorade signed NIL deals with the University of Connecticut's Paige Bueckers, and Jackson State University's Sheduer Sanders. These athletes have proven to be amongst the best in their respective collegiate sports. Here are a few of their accolades:
Paige Bueckers, W Basketball
2021 All BIG EAST First Team
2021 AP Player of the Year
2021 Naismith Trophy Winner
Sheduer Sanders, Football
2021 Jerry Rice Award
2022 First Team All-SWAC
2022 SWAC Offensive Player of the Year
The Source Attractiveness Model – places an emphasis on the similarity, familiarity, and liking of a celebrity endorser (Schimmelpfenning & Hunt, 2020; Erdogan et al, 2001; Desmarais, 2014; Desmarais, 2017; Fang & Jiang, 2015; Shanklin & Miciak, 1997). The effectiveness of persuasive communication as a result of the physical attractiveness of the celebrity endorser is called identification. This is assumed to occur when "information from an attractive source is accepted as a result of desire to identify with such endorsers" (Kelman, 1961). A consumer's resemblance, or sheer desire to resemble the physical attributes of the celebrity endorser can act as an additional influencer on the consumer. Research has revealed that brands and organizations seek opportunities to select celebrities on the basis of their physical attractiveness, in hopes to cash in on "the dual effects of celebrity status and physical appeal" (Freidman & Freidman, 1979).
Physical attributes of athletes have been found to be assets with when pursuing NIL deals. In the realm of skincare and beauty products, an NIL deal was reached between five student athletes and Naomi Osaka's skincare line, KINLO, to promote benefits of sunscreen use for melanin rich skin. Another athlete that has taken advantage of his attractiveness, specifically familiarity, is Rayquan Smith aka "The NIL King". He has over 70 NIL deals to include brands such as Spikeball and Eastbay. He was also the recipient of the Hustle Award at the first ever NIL Summit in 2022. This award "recognizes the student-athlete that, while not a major statistical contributor to their team, utilized an unrelenting determination combined with entrepreneurial savvy, to excel their Name, Image and Likeness endeavors off the field or court" (Nil awards, 2022).
By leveraging the knowledge of the Source Credibility Model and Source Attractiveness Model, Pro2CEO seeks to be a source for student athlete attempting to seek NIL opportunities. We understand the more an athlete is believed to be an expert, the more persuasive they can be, which in turn can generate more intentions to buy an endorsed product. (Ohanian, 1991). At Pro2CEO, we also realize that advertisers have the ability to influence the perception of a celebrity endorser's appearance through the use of certain appeals which can enhance source
attractiveness and ultimately have a positive effect on consumer attitudes and behaviors (Kunkel et al, 2019). The NIL industry is still new but it has truly transformed collegiate sports forever. PRO2CEO's experience in transitioning athletes and institutions strategically though periods in sports and the NIL is not different as a we will continue to be a resource to colleges and university. If you have questions regarding NIL or transition go to our website or email us.
TRANSITION WORK: LITERATURE REVIEW
WHAT IF THE NIL STARTED 30 YEARS AGO?  
(A NIL CORNER SUPPLEMENTARY)
Ed O'Bannon, Reggie Bush, Johnny Manziel, Donald De La Haye Jr., and Tyranne Mathieu…What are the first thoughts that come to mind when recollecting on these college athletes?
The brand recognition they all displayed even through the veil of the National Collegiate Athletic Association athletic system were paramount to the emerging NIL policy era. Unknowingly, they alluded to the future of the "what if" scholar athletes were empowered to build brands and become entrepreneurs of their marketing while in the NCAA system. Contrarily, the NCAA continued to capitalize off the monetization of athletes based in the inception of amateurism for this multibillion-dollar conglomerate. Yet, these scholar athletes in the dawning of the social media era were seminal to reorienting the possibilities of issuing power to scholar athletes to brand build via NIL policy for the modern athlete. Manziel, in particular, upon suspension for signing memorabilia for a booster, opened Pandora's box for equity and fairness for scholar athletes. Furthermore, Ed O'Bannon's trial against the NCAA due to the unauthorized usage of his image for a collegiate basketball game, is the origin of the momentum towards the current NIL policy. 
Sack and Staurowsky (1998) clearly articulated that "with the growth of mass media, college sports heroes became national heroes, and winning teams could raise a college from relatively obscurity into national prominence. If the price to be paid for sharing in the prestige of a winning sports team was the subsidization of talented college athletes, there was no shortage of people to come forth with the money." (p. 31). However, this is an attempt to change this narrative and empower scholar athletes moving forward.
Literature Review
In 2021, Southall and Nagel illustrated the performative nature of the NCAA collegiate model to "implement smaller, less-significant changes" that convince a consumers of collegiate sports that these insignificant alterations ultimately have no impact on athletes' rights for the ever-evolving collegiate model for athletics (p. 18). They demonstrate that classification as employees for scholar athletes, true "value-in-kind" does not equate to actual cash value for goods or services, and empowering companies such as Opendorse, INFLCR, or The Drake Group to aid in reformation of the NCAA system to support and not exploit scholar athletes is pandering (p. 20). Finally, the authors' suggest a true overhaul and defiance of the current NCAA collegiate model to "abandon the familiar and financially successful" system to truly revolutionize the modern scholar athlete (p. 21).
Hence, Harry (2021) postulated how to further utilize the framework for modern college athletics to decipher the problematic system that is the NCAA and make improvements to facilitate an anti-deficit-based approach for college athletes moving forward. She illuminates the work of Martin et al. (2013); Carter-Francique et al. (2015); Bimper (2016); Fuller et al. (2016); and Cooper et al. (2017) that supplanted and grounded the usage of the Community Cultural Wealth (CCW) model in sport scholarship. Yosso's (2005) CCW model nurtures cultural wealth through at least 6 forms of capital: aspirational, navigational, social, linguistic, familial, and resistant capital. Hence, capital is "income" the dollars received from salaries, wages, and payments that build "wealth" the total extent of an individual's accumulated assets and resources (p. 78). Capital to the accumulation of wealth are imperative to the success of scholar athletes ability to ultimately empower themselves in the current NCAA system. Rather, CCW demonstrates "an array of knowledge, skills, abilities and contacts possessed and utilized to survive and resist macro and micro-forms of oppression" (p. 77). Consequently, scholar athletes such as Rayquan Smith have maximized these efforts efficiently at the Division III level. But, who is KING of Power 5?
Feldman (2020) illustrates the possibilities that Reggie Bush and the USC Trojans of his era were not able to leverage social media like college athletes of the last 2 seasons. However, what if — what if college athletes, scholar athletes of yesteryear would have been able be to be compensated via personal appearances, signing of apparel and memorabilia, or selling/promotion of items with their name, image, or likeness upon it? A.J. Maestras, CEO of Navigate determines Bush's value as a college athlete in a market like Los Angeles would range from $4-6 million in today's value or $2-3 million at the time of his Trojan career. In this mock analysis, we hope to provide further guardrails to assess who would be the King of NIL, in the modern era. Consideration for: big/impact play ability, performance on field, media presence/marketability, charisma, geographic location, conference affiliation, social responsibility engagement and leadership ability of these scholar athletes should be accounted for. In the preceding, are a honorable mentions list for the chart. As well as lists for the 80s, 90s, 00s, and 10s with reference articles, to jog your memory. In addition, scholar athletes likely overlooked are listed as well.
Based on 2022 NCAA Research, 1.06 million high school football scholar athletes have a 7.3% chance of becoming one of the 73,700 NCAA football scholar athletes. Further, of those 73,700 scholar athletes, 1.6% are drafted into the NFL, upon arrival in the NFL your average career length is about 3.3 years across all positions. Finally, in  "Not for Long:" Turner III, highlighted the Sports Illustrated's report that within 2 years of retirement, 78% of all NFL athletes are bankrupt or in financial distress (p. 2); and 65% of former athletes endure chronic pain from permanent injury within 1 year of retirement (p.3).
Planning for your exit upon entering an athletes  career is ideal but not practical. Furthermore, finding equitable instances and mentors that help with this pivotal transition in life is imperative to success post athletic career. 
Fuller (2014) determined understanding foreclosure and salience of athletic identity, anticipating and preparing for transition into post athletic career or retirement from sport, diversifying or exploring identities outside of their athletic identity, and finding ways to replicate the camaraderie and social support groups that were embedded in athletics are imperative to successful transition into post athletic life. Payne and Driska (2020) detail due to the high visibility of professional opportunities for scholar athletes in football they fail to prepare and acknowledge the possibility of retirement from sport. Ultimately hindering their ability to explore roles and identities that will supplement their life after football. Next, they determined "Division I football student-athletes are at higher risk for unsuccessful transitions due to the unique intersection of high athletic identity, homogeneous social support structures, and lack of transition preparation due to the desire to pursue a professional football career." (p. 174). However, the authors articulate high impact practices (HIPs) or "educational programming that are designed to supplement and enrich students education that facilitate peer and faculty interactions to create and develop transferable skills" (p. 171-172) (i.e., internships) could be a great intervention tool to implement with football scholar athletes for their successful transition out of sport.  
Kidd et al (2018) focused on profit athletes [NCAA college athletes whose estimated market value exceeds the value of NCAA-approved compensation] athletic role set and post-athletic career transitions. They found "as a consequence of their force closing other identities, all subjects experienced difficulties in exiting their athletic role set" (p. 130).Also, though resilience was founded in the college athletes' coping skills from profit-generating participation, depression and suicidal ideation were feelings that also manifested in processing their transition (p. 131). Finally, the authors found "in an attempt to become a successful FBS-level athlete they had all acquiesced and adopted an athletic role set that necessarily required them to abandon any semblance of academic and social role sets" (p. 132). Contrarily, work has explored the liminal state of retiring athletes and the possible intervention strategies to help aid their transition. Specifically, Wendling and Sagas (2021b) state in the moratorium status, individuals are experiencing identity crisis due to lack of direction, have the inability to forge an identity, and possibly become ruminators spiraling with "internal conflicts that appear insoluble" (p. 3). Further, Wendling and Sagas (2021a) recommended "social expectations" and sport transition liminality have athletes in a purgatory of in-between athlete identity and their next identity of life post elite life due to societies' treatment of them based on who they were (p. 5), rather the moratorium due to their lack of identity work or achievement of a synthesized self (p. 6). 
Simplistically put, assessing and addressing the holistic development of football scholar athletes is imperative to their ultimate success being integrated into the world distinguished from their role/identity as an athlete. Thus, finding mentorship, social support groups, ways to stay active physically and psychologically, and fulfillment are pivotal to navigating sport transition liminality of the "in-between athlete" and "next identity of life." Hence, solace found for the impending athletes discussed to experience identity reformation in their next career path (post-NFL life). Although, successful career transition financially is the premise of this list, cultural impact is just as important to the legacy and identity of NFL players.
Please see our P2C MLB Baseball edition here:
CONTRIBUTORS & STAFF BIOS
KEVIN CARR: CEO & PRINCIPAL
Kevin Carr is the Founder, CEO and Principal of PRO2CEO, LLC. Kevin believed a high-performing professional development firm specializing in transition management for professionals in the sports, entertainment and business needed to exist. PRO2CEO is a career transition and business development-consulting firm for elite current & former athletes, artists and organizations who seek to increase their optimization and monetization in the business world. Kevin has also been a guest lecturer at NYU, UCF, Indiana U, and Baruch College for several graduate and undergrad level classes on sports management, leadership, corporate social responsibility and public administration. He has also been an adjunct professor at Florida State and Michigan State universities and taught courses on life Skills and Career Development.
RANDY HOLT: RESEARCH & EDITORIAL
Randy Holt is a research assistant and analyst with PRO2CEO. A former high school English teacher, Randy acquired his Masters in Sport Management from the University of Florida, specializing in Athlete Development. Away from PRO2CEO, he is a corporate analyst, an Athlete Development Specialist at Mesa Community College in Mesa, Arizona, and a freelance baseball writer focusing on analytics. Randy's aim is to identify major trends in sport as they relate to athlete development and transition, while also determining how those trends can be shaped into resources and development opportunities for athletes at the lower levels.
JOSEPH HERMAN, II: RESEARCH & WRITING
Joseph Herman, II, is a current PhD student at the University of Florida and a research assistant for the Institute for Coaching Excellence. As a former HBCU scholar-athlete, Joseph has a desire to aid athletes with their transition into their post-athletic career/life. Joseph has a desire to aid athletes with their transition into their post-athletic career life. His research interests are in athlete development/transition via narrative theories.
LAVAUGHN KELLEY: NIL/PLAYER MANAGEMENT
LaVaughn is a United States Naval Officer stationed in Virginia, with over 17 years of military service. He was a member of the United States Naval Academy varsity football team, where he graduated in 2005. LaVaughn earned his masters degree in Sport Management at Liberty University and was inducted into their International Honor Society in Business, Management and Administration. He is currently serving as the lead for PRO2CEO's NIL/Player Management department.
MENEFTHA PIERRE: RESEARCH & EDITING
Meneftha Pierre is a South Florida native who earned her Bachelor of Arts in Human Communication from the University of Central Florida in 2015. She also graduated with her Master's of Business Administration in Sport Management from Florida Atlantic University in 2018. Pierre has over seven years of varying experiences at the collegiate, non-profit, and professional level. Most recently, Pierre earned a Project Management Professional Certificate. She currently serves as the Business Operations Manager for PRO2CEO. 
COLLIN ULMER: PRODUCTION & EDITING
Collin is the Director of Marketing and Communications for the University of Florida Institute for Coaching Excellence. Additionally, Collin is pursuing his Master of Science in Sport Management at the University of Florida. Collin also serves as the producer and editor of the Athlete+ Podcast Network, including The HIT Show hosted by Kevin Carr. For inquiries or further concerns, please reach out to Collin via email.
JUSTIN SKAGGS: PRODUCTION & GRAPHIC DESIGN
Justin Skaggs is the graphic designer for the Institute for Coaching Excellence. Justin graduated from Santa Fe College in Gainesville, Florida with an A.S. degree in Graphic Design Technology. Currently, Justin also works as a Graphic Design Assistant with ELearning TEKnologies and assist with the development of E-Learning courses at various companies. Read more about Justin and view his portfolio here.