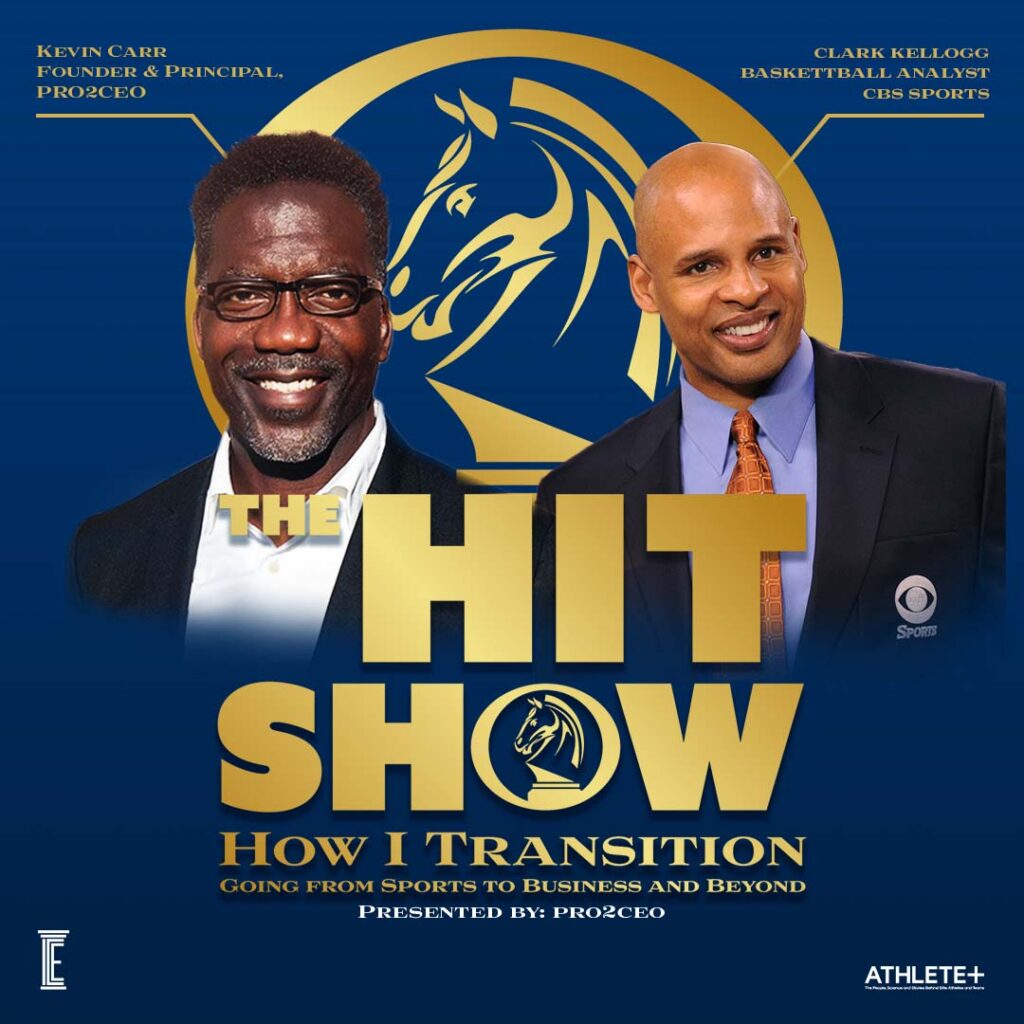 Click here to listen
Kevin Carr, Founder, and CEO of PRO2CEO, is joined by Clark Kellogg, CBS Sports basketball analyst and former NBA player. Mr. Kellogg has years of experience in the basketball industry, both as a player and a commentator. He is also the voice of the popular video game NBA 2k. Throughout the podcast, he shares his experiences from his time at Ohio State University, the Indiana Pacers, and the transition from player to commentator after his playing career ended prematurely. Kellogg shares insights on skills and attributes that are necessary to excel in the broadcasting industry and stories about his personal transition.
About our Guest: Clark Kellogg has been married to Rosy since 1983 and they have 3 adult children and 3 grandchildren. He is a native of Cleveland, Ohio where he attended St. Joseph High School, distinguishing himself there as a student and basketball player. He was a National Honor Society Member and a McDonald's All-American in basketball in 1978 and 1979. He attended The Ohio State University and earned his marketing degree in 1996. From 1980-82 Clark was a 3-year starter on the basketball team, serving as a captain his junior (final) season, and earning Big10 MVP honors that same season.
Clark was the 8th overall pick in the 1982 NBA Draft and spent his entire 5-year playing career with the Indiana Pacers. He was a unanimous 1st Team All-Rookie selection in 1983 and had career averages of 19ppg and 9rpg before his retirement in 1987 due to chronic knee issues. He spent a total of 32 years with the Pacers serving as a player, broadcaster, and VP of Player Relations from 1982-2014.
Since 1987 Clark has been an NBA and college basketball commentator. He's done radio and television broadcasting for the Indiana Pacers, Cleveland State University, the Atlantic 10 and Big East TV Networks, ESPN, Westwood One, and CBS Sports. At CBS he has been a lead studio and game analyst since 1997, and a familiar and trusted voice during March Madness. Since 2009, he's also been a featured commentator on the popular NBA2K video game.
Philanthropy and service to others are priorities for Clark. He uses his time, talent, treasure, and platform to support various institutions and organizations. Athletes in Action, Cristo Rey School, Driven Foundation, Fellowship of Christian Athletes, Mid-Ohio Food Collective, Ohio State University, Ronald McDonald House Charities, and United Way to name some. He has served on the Ohio State Alumni Association Board and The Ohio State Board of Trustees (2010-19). He currently serves on the Anomaly Sports Group Advisory Board, The Columbus Foundation Governing Committee, and is a regional and corporate director for First Merchants Bank.
About our Host: Kevin Carr is a 20-year sports business and professional development executive. As an acclaimed award-winning transition expert, author, leadership coach, and keynote speaker, Kevin Carr is the Founder, CEO and Principal of PRO2CEO, LLC. Kevin believed a high-performing professional development firm specializing in transition management for professionals in the sports, entertainment and business needed to exist. PRO2CEO is a career transition and business development-consulting firm for elite current & former athletes, artists and organizations who seek to increase their optimization and monetization in the business world.
About the podcast: The HIT SHOW features discussions with high-achieving professionals about transition and business techniques to help student and professional athletes achieve success after sports.
Click here to listen to the episode.